Nokia has been living a low-profile life ever since it sold its phone business to Microsoft. And even Microsoft is finding it hard to compel users to buy its Lumia devices over Android and iOS. In Nokia's case, it appears as if the Finnish company wants to make a comeback and reclaim its throne. Benchmark details for a new Nokia device have been found on
Geekbench
.
Nokia D1C is Nokia's new smartphone in the making. The device which seems to be a mid-range-focused smartphone features a Snapdragon 430 SoC having 3 gigs of RAM, Adreno 505 GPU and Android Nougat 7.0. D1C has achieved a single-core score of 656 and a multi-core score of 3120.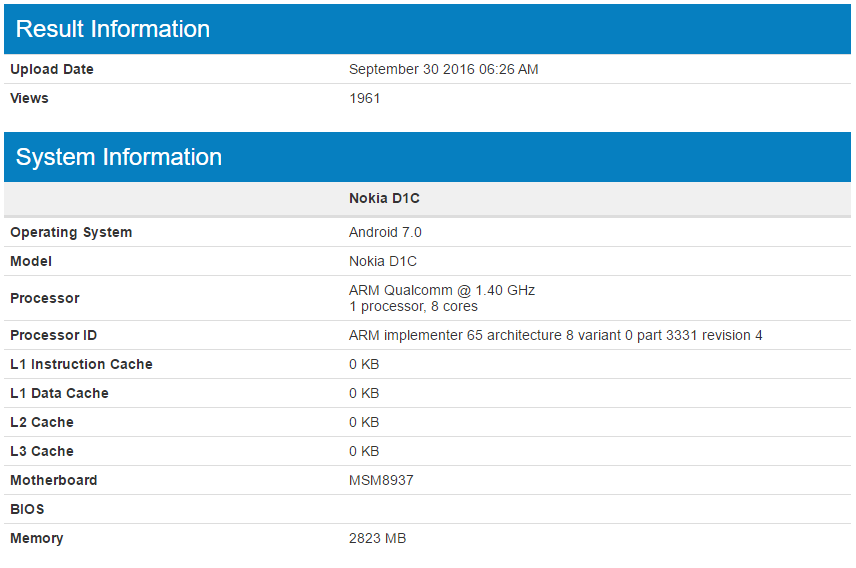 Nokia's friendship with Android is old. It has existed since its Lumia series was striving to compete Apple iPhone and Google's Android army.
In 2014, Nokia released XL and XL Dual which ran a forked Jelly Bean. The was also an Android-powered N1 tablet but couldn't make any major impact in the market.
What do you think about Nokia D1C. Tell us in the comments.